11-3-99: Riding continues, also hiking.
No report yesterday - I was far from a telephone line as you will see below. The entire party is now assembled in Moab, 21 cyclists in all. Tomorrow on some trail yet to be designated, there will be much whooping and hollering.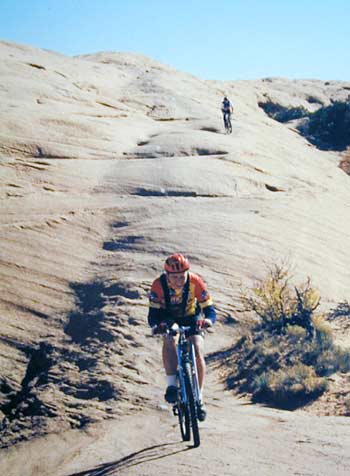 Photo: Pat
Here's Jim on the Slickrock trail last Monday, doing what he does best - descend.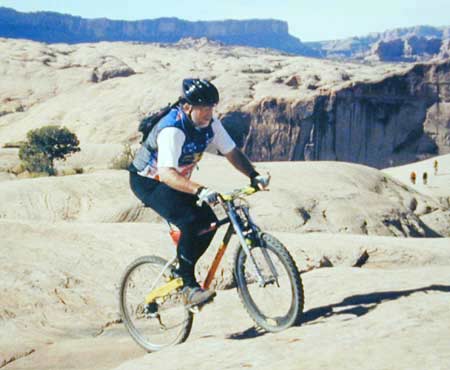 Photo: Pat
Curt, defying gravity, actually pedaling up one of the many ups on Slickrock.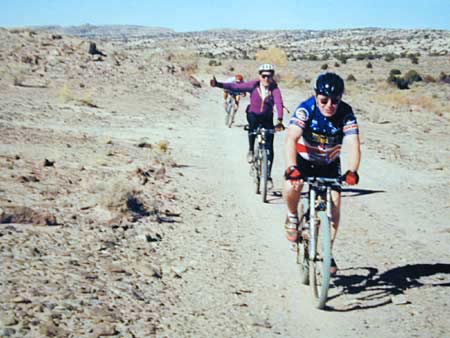 Photo: Pat
Ivan, our senior rider and former Irish National Team member, leading a merry band of cyclists on Tuesday.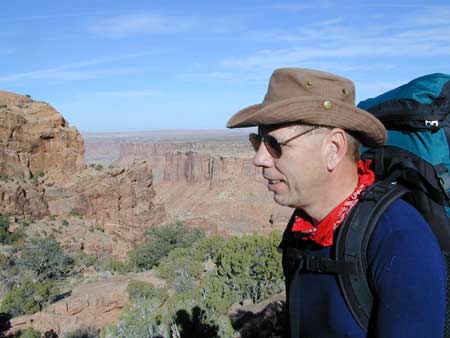 Curt and Jim went backpacking. Here is Jim on the Syncline Trail around Upheaval Dome in Canyonlands National Park. Well, what we thought was the trail....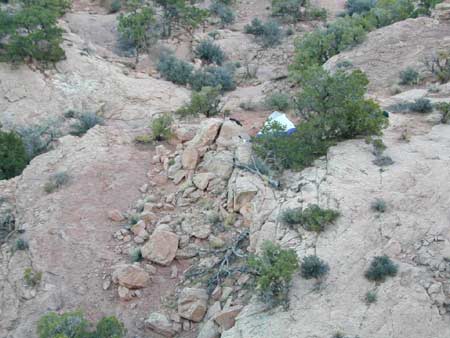 Fortunately, we got "confused" and had no choice but to camp at an incredible spot for which we had no valid permit. The permit system is quite strict, by the way. We were given a ten-point lecture covering all the fine points of desert travel, and had to view a ten-minute video.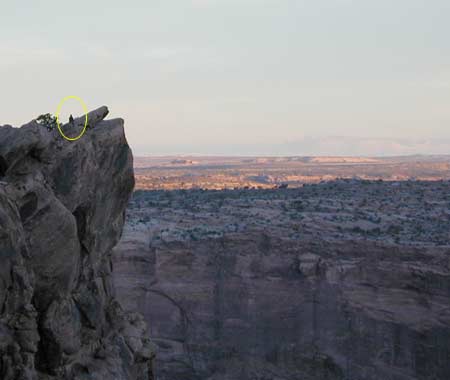 We had some fun crawling out to this rocky ledge jutting out 1100 feet above the real camping area (see yellow circle). It was great watching the sun come up, not only for the view but for the heat.
---
Other Pages
Pre-Trip Page
Monday Page
[no Tuesday Page]
Wednesday Page
Thursday Page
Friday Page
Saturday Page
Epilogue
Home

---
Virtual Moab Site
"Official" Moab Site
Site by Flying Bytes, Curt Austin