Bikes on their way!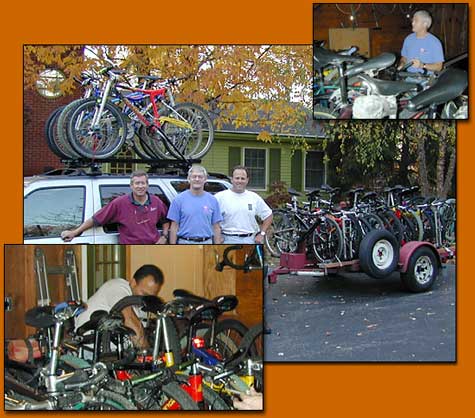 10-29-99:Eighteen bikes are loaded for a trip to the mecca for mountain cycling, Moab's Slickrock Trail in Southeastern Utah. GT and Pat, middle and right, will make the heroic journey by SUV, while the rest of us fly. Ken, left, graciously loaned his motorized unit for the occasion, knowing our professional driving team will limit themselves to subsonic speeds, at least through populated areas. This is the same team who in 1997 dropped us off at the Colorado Springs airport, and beat us back to Cincinnati.
They are heavily armed, by the way.
Stay tuned for updates throughout the week, here and/or at Mark Johnson's site.
Preview group photo (faked):
---
Other Pages
Pre-Trip Page
Monday Page
[no Tuesday Page]
Wednesday Page
Thursday Page
Friday Page
Saturday Page
Epilogue
Home

---
Virtual Moab Site
"Official" Moab Site
Site by Flying Bytes, Curt Austin