11-6-99: Last Day
Note: This will be the last report from the field. Look for some follow-up reporting next weekend. Thanks for all the support from home!
On the last riding day, the main group took Schaefer Trail down from the Island in the Sky (Canyonlands NP). This is an old uranium ore hauling road with a dramatic descent from the rim. Some came back up, while others found a route out to the road to Moab. A non-riding group took in the scenery here and at Arches in a grueling car trip. Not appreciating the difficult conditions of this car trip, the riding group awarded several of the non-riders with T-shirts having a wimpish theme, and threw them out of the Quad Squad.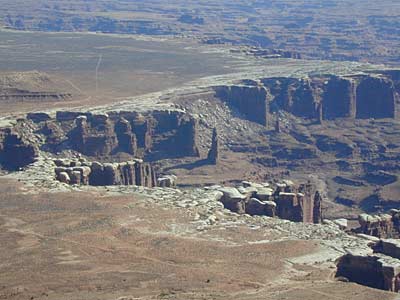 The canyon that the riding group visited. It has multiple levels. The Colorado meets the Green River just downstream from here, the peninsula in-between is called the "Island in the Sky".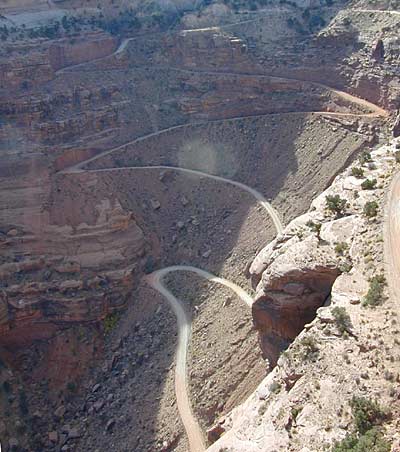 Apparently not quite so scary as it appears here, this 1000-foot drop was nevertheless a grueling climb on the return trip.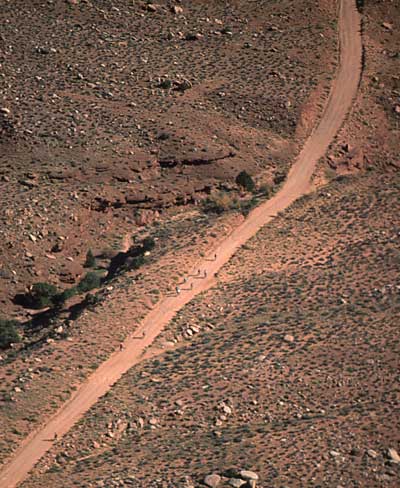 If you look closely, you can see our intrepid riders leaving dust along the Schaefer Trail just after the initial descent on the switchbacks.
---
Other Pages
Pre-Trip Page
Monday Page
[no Tuesday Page]
Wednesday Page
Thursday Page
Friday Page
Saturday Page
Epilogue
Home

---
Virtual Moab Site
"Official" Moab Site
Site by Flying Bytes, Curt Austin